Sign language training will be conducted.
9 people for conducting 2 months Nepali Sign Language training for deaf children and resource teachers, taking into consideration the educational condition of deaf children of deaf children in different districts of Madhesh province under the organization of National Deaf Federation of Nepal and with the support of World Bank.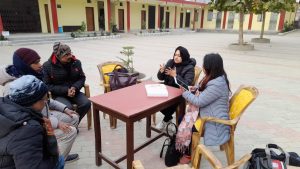 A 1-day orientation for the trainers has been completed in Lahan. Children and teachers will be taught sign language through various sign language mobile applications produced by the National Federation of the Deaf. For that, 53 TABs have been provided in various schools. In addition, resource classes have been coordinated with the accounting center and city education unit for regular monitoring and evaluation of learning.